Focus Landscape Undone
Introducing Focus 2022: Landscape Undone
Curated by Carla Acevedo-Yates, Focus is titled Landscape Undone, and will be dedicated to solo- and dual-artist presentations that examine the intersectionality of issues surrounding the environment, focusing on personal and political climates as they interact with race and gender.
The landscape has always been a recurring theme and subject in art, commonly accepted as a truthful representation of our surrounding environment. But the landscape is rarely entirely natural. It is, rather, a social, political, and cultural construction that includes much more than the expanse of land and water that our eyes can see. Art, in its capacity to question and address the complexities of human existence, can help us understand and undo these layered structures.

The 2022 Focus section, titled Landscape Undone, features artists that examine the intersectionality of issues surrounding the environment, focusing on personal and political climates as they interact with race, gender, and power. In these South-South ecologies, the landscape is simultaneously physical, psychological, and geographic—a human and non-human entity—where a range of historical and cultural processes collide. Through abstract, representational, and materially driven approaches, the artists whose work is featured in this section all address the natural and the built environment as a personal yet public territory loaded with the legacies of racism and colonialism. Mirroring the diversity of the landscape as a concept, the section features a wide array of perspectives, mediums, and approaches. Overall, their work becomes an act of undoing, allowing us to see beyond what is in front of us.

-Carla Acevedo-Yates
ALMEIDA E DALE
Presenting artist Hélio Melo

Hélio Melo worked as a rubber tapper in Acre, Brazil, performing arduous tasks that ranged from extracting rubber from trees to transporting it. A self-taught artist, writer, and musician, Melo found inspiration in Amazonian culture, referencing the myths, legends, and customs from the forest in his work. In his drawings and paintings, he depicts the symbols and codes of the Amazonian universe alongside scenes that portray his experiences as a rubber tapper. Marked by learning in nature and from the indigenous populations, Melo's work highlights the symbolic dimension of the social and ecological conflicts still present in the region.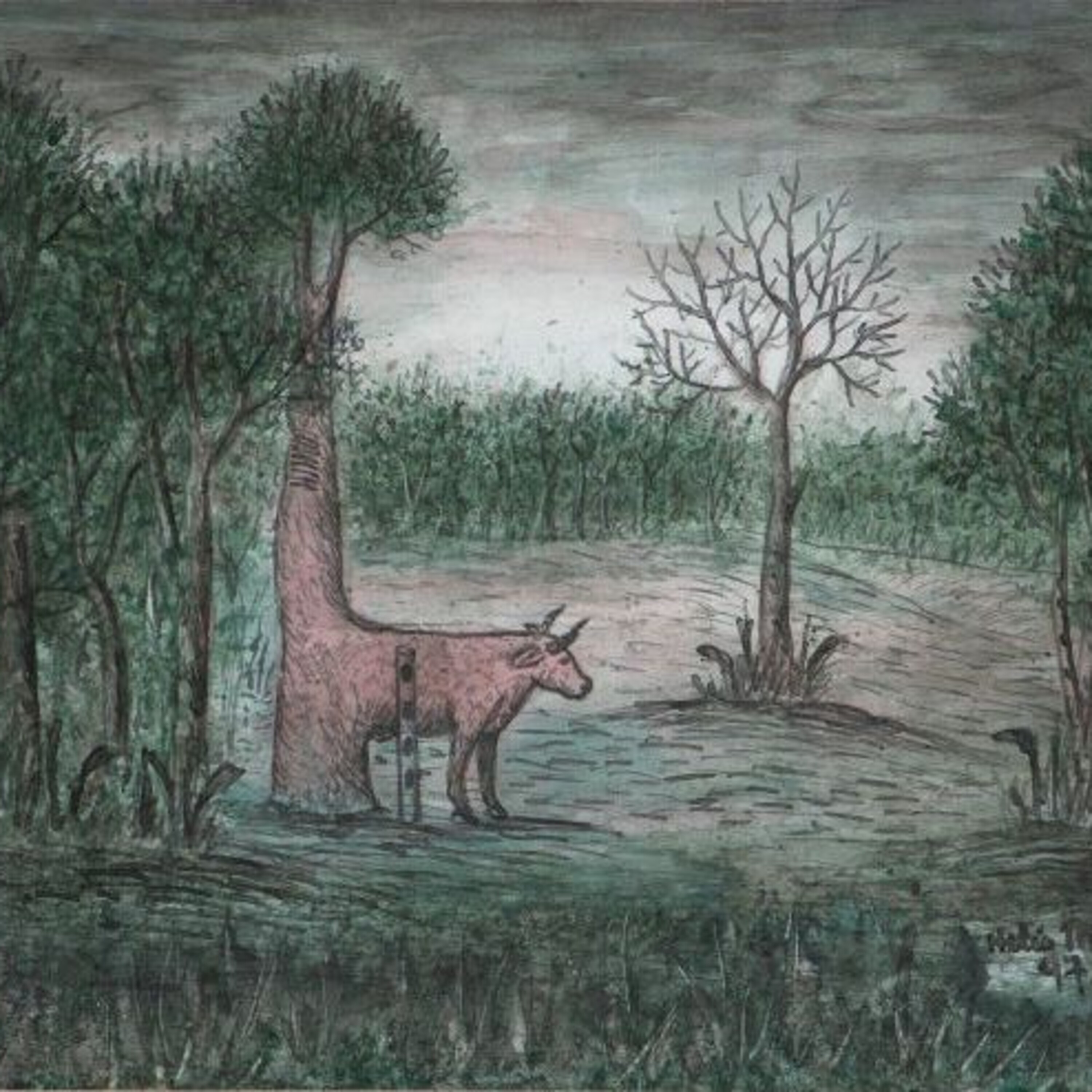 ARRÓNIZ ARTE CONTEMPORÁNEO
Presenting artist Ishmael Randall-Weeks

Through topographic formats, circular ruins, and conceptual excavations, Ishmael Randall-Weeks's sculptural work reflects on the formal archeology of human culture through the materials of the built environment. In his work, the circle, a symbol of collectivity kept together in solid blocks of matter with educational tools such as books, bares a discourse that explores the construction of memory through form. Here, stratigraphic situations question what is known as "modern" in a dialogue between basic structures and temporary architectures.
BIENVENU STEINBERG & J
Presenting artists Glenda León and Stefana McClure


Works presented by Stefana McClure and Glenda León center on poetry and language as a tool to question power dynamics. In Ways to Save the World, León collaborated with a women's workshop in Ecuador to create embroideries that display a humorous tale of the planet dosed with the substance San Pedro, which is revered for its healing powers in other cosmologies. The work Time of the Americas alludes to the healing rituals practiced by native populations at the Bridge of Las Americas following the construction of the Panama Canal. Meanwhile, McClure's protest stones are held in delicate nests of twine, a gesture that underlines the weight of words over violence; the stones and ax-head necklace are bolstered by the words of iconic Cuban poets. Growing up in Belfast, Ireland, McClure witnessed children going to school with a stone in each pocket, ready to throw at the British tanks.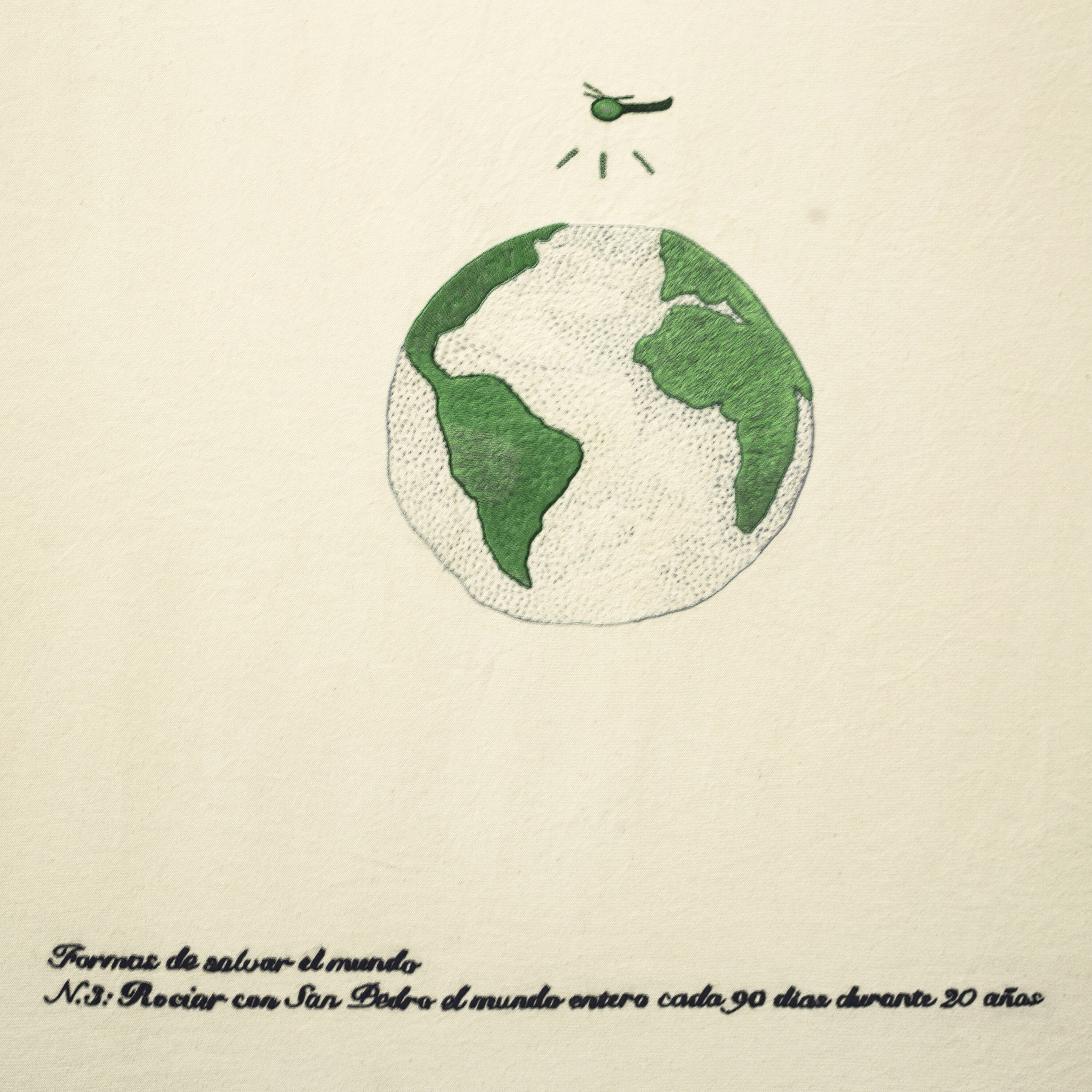 CECILIA BRUNSON PROJECTS
Presenting artists Feliciano Centurión and Katie van Scherpenberg

Feliciano Centurión's textile works, made with blankets bought in markets and embroidered with the flora and fauna of his homeland in Paraguay, display his investment in the natural world and his Guaraní heritage—he also often used ñandutí (Guaraní lacework) as a decorative element. The booth presents a selection of works that highlight these distinctly Paraguayan natural motifs, while also engaging with concerns of gender and sexuality that run throughout his work. 
Katie van Scherpenberg, who has lived most of her life on a remote island in the Amazon, has developed a body of work in which art and life are inextricably intertwined. The booth presents photographic performance works, which demonstrate her fascination with natural forces, expressing her commitment to the notion that nature should not be tamed or bled for profit. Her paintings incorporate natural materials, like sand, rocks, and repurposed bedsheets, which she uses as a support for her rigorous pursuit of painting.
CATHARINE CLARK GALLERY
Presenting artist Ana Teresa Fernández

Ana Teresa Fernández's work explores the politics of intersectionality through time-based actions and social gestures. The booth presents three large-format photographs from Fernández's iconic project Borrando la Frontera (Erasing the Border), a site-specific action/intervention in which the artist spray painted the border wall separating Playas de Tijuana from San Diego's Border Field State Park to "erase" the border wall at a time when Sunday family visits at the border were stopped by the Obama administration. These works are complemented by sculptures and paintings from "Of Bodies and Borders," a series in which Fernández meditates on the plight of migrants through poetic materials.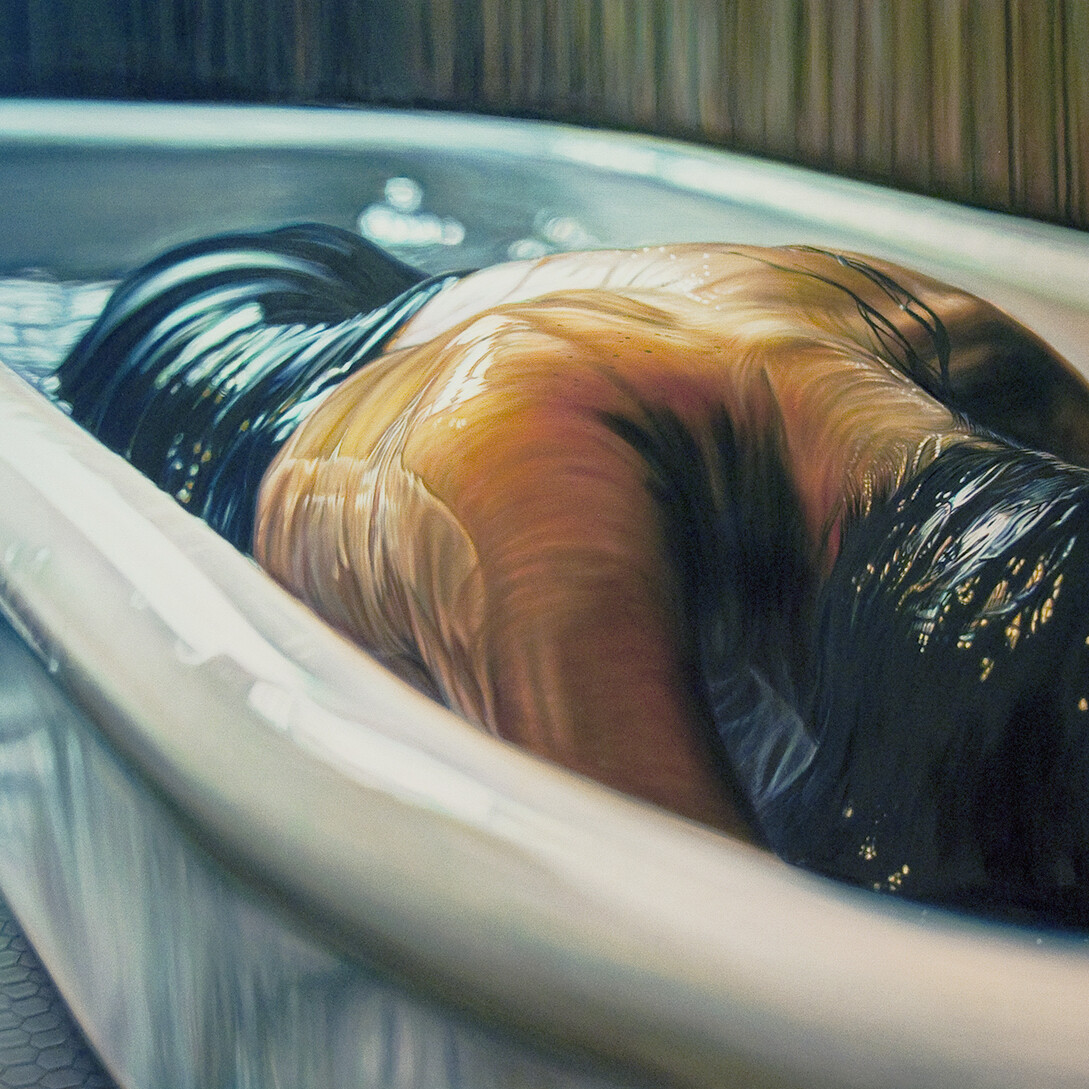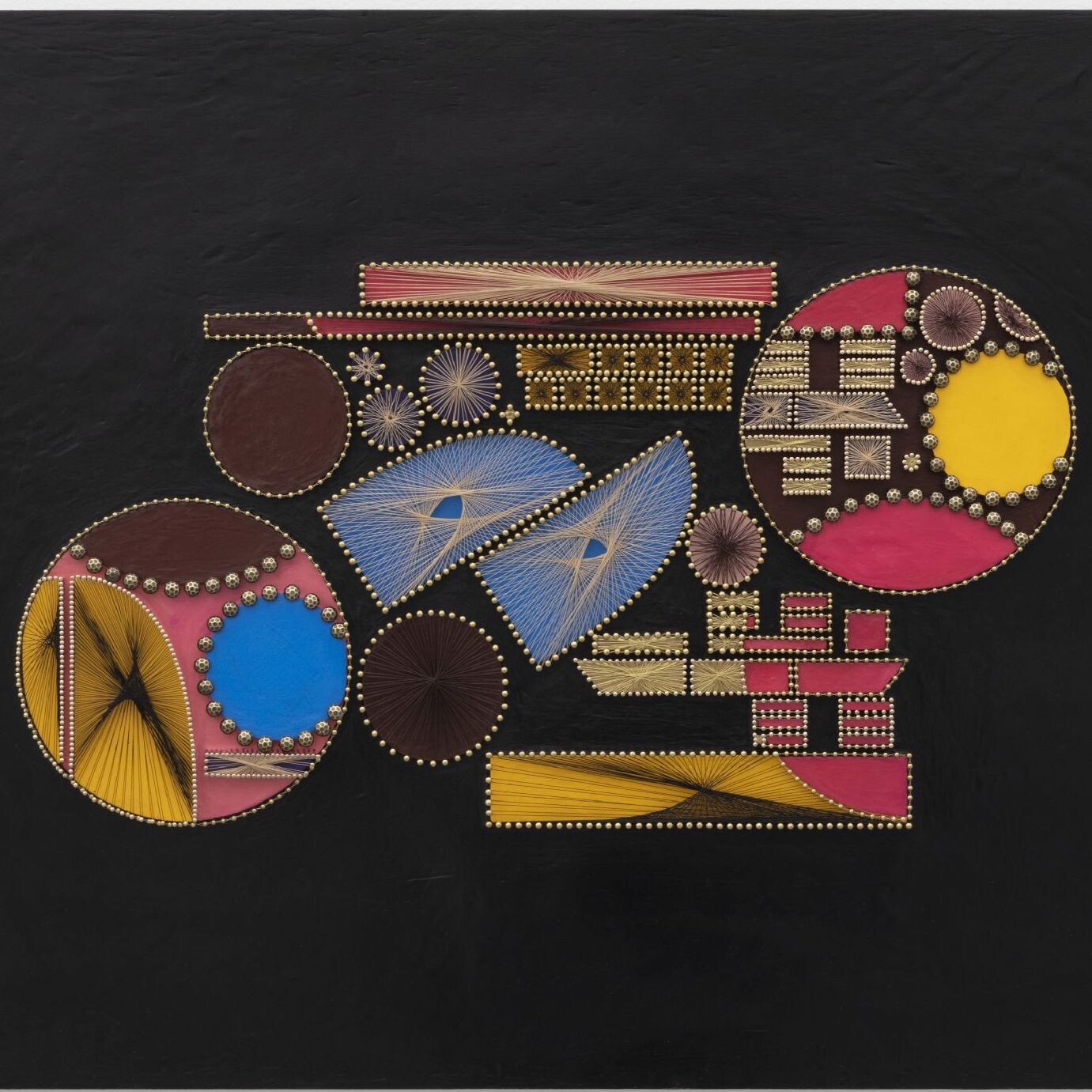 DAVIDSON GALLERY
Presenting artist Glendalys Medina

The booth presents a selection of new wall sculptures and drawings by Glendalys Medina from her "Taíno" series, which are informed by the artist's research at the Archive of Puerto Rican Studies at Hunter College, and the mythologies and folklore of the Taíno people. Here, Medina delves into the elaboration of a visual language inspired by a 1980s boombox (hip-hop's quintessential icon), and the urban context of the city, to transcend traditional systems of language riddled with coloniality and social impositions. Medina draws from visual motifs, layering form over color and material to express a multi-layered language that disrupts the ways language and symbols are typically read.
NORA FISCH
Presenting artists Adriana Bustos and Alejandra Fenochio

Adriana Bustos's recent work focuses on the bestiaries of the Indies—the chronicles and images of fantastic beasts produced by European colonizers in the Americas, where men, women, plants, animals, and landscapes merge into enigmas that hide and reveal the desires, fantasies, and terrors of humanity. Revisited from a historical distance, the aquatic and earthly beings that populated bestiaries speak to the urgent need for a new paradigm that ushers in new ways of relating to the planet and its inhabitants.
Immersed in the post-dictatorship countercultural scene in Buenos Aires in the late 1980s and 1990s, Alejandra Fenochio painted nude portraits of her queer friends, often posing in imaginary natural landscapes far removed from the urban grit of the city. The booth also features works made in response to the Buenos Aires Ecological Reserve, a piece of abandoned land at the shore of the Rio de la Plata and the city. Her small paintings depict the wistful mood of this historically charged land, where nature and the detritus of the city turn into one.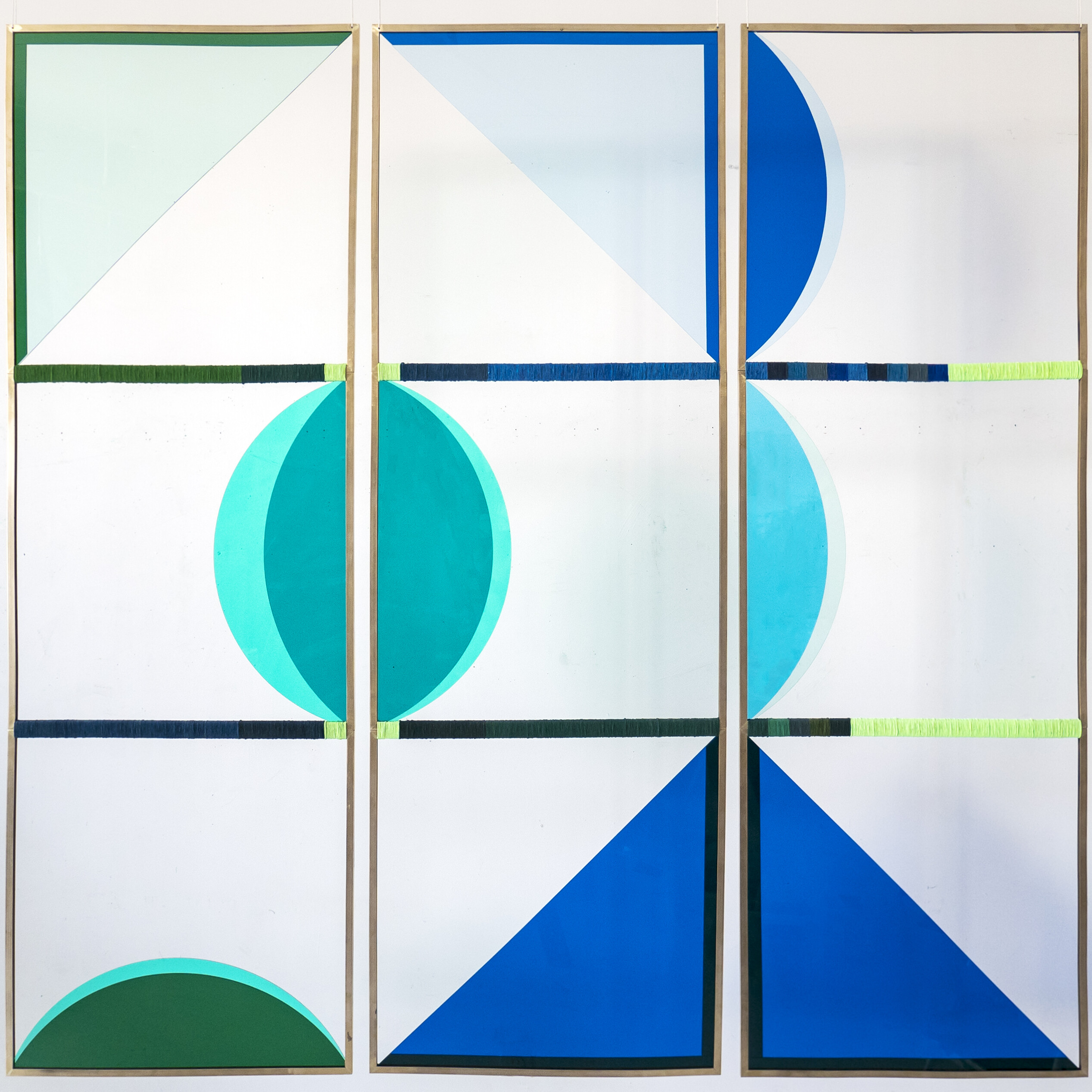 EMBAJADA and CURRO
Presenting artist Claudia Peña Salinas

The booth presents new works by Clauda Peña Salinas, including a series of wax panels with fragments of scenes from the Tepantitla Teotihuacan mural depicting the water paradise of Tlaloc and Chalchiuhtlicue, combined with images of Modernist artworks and Pre-Columbian archeological pieces recently auctioned at Christie's; a floor standing sculpture of a pyramid section with hanging print images of Teotihuacan masks offered for auction at Christie's; and a grid of photographs depicting a collection of rocks dislocated by two different operations of extraction: looting and tourism. Three of the photographs depict rocks from the American Museum of Natural History brought to the United States by the explorer John Lloyd Stephens during the 19th century, while the rest are from a bag originally sold in a tourist shop in Mexico in the 1970s, and subsequently purchased on eBay. 
HUTCHINSON MODERN
Presenting artist Priscilla Monge

Priscilla Monge's work explores the complex interconnectedness between love, violence, family, the feminine, and intimacy through a wide range of mediums. The booth presents recent works alongside iconic works from the '90s, offering a wide view of the artist's oeuvre. For example, Monge's embroideries Dear Priscilla and Bordando Tiempos introduce themes of "what is known and not said," reinterpreting uncomfortable aspects of everyday life. In "The Bloody Day" photograph series, the artist wears cargo pants made of menstrual pads in the city, highlighting societal taboos. In her recent work, "Green Polaroids," Monge explores the concept of time, in particular the unique moment captured by a Polaroid, and the idea that earth and nature can cover anything with time.
INSTITUTO DE VISIÓN and REVOLVER GALERIA
Presenting artists Aurora Pellizzi and Elena Damiani

Aurora Pellizzi's work combines the formal precepts of painting and sculpture with craft techniques. Her practice is informed by pre-industrial textile processes and materials, from natural dyeing to back-strap loom weaving, where technical constraints give way to textural, dimensional shapes and forms. In Pellizi's work, fiber is used both as a pictorial field and as the embodiment of the subject it represents.
Elena Damiani's practice transforms found materials into collages, sculptures, videos, and installations, addressing critical concerns regarding the understanding of the present by looking at the past and the potential of images. By revising subjects such as geology, archaeology, and geography, Damiani aims to construct fictions where multiple topographies and times unfold working together. In doing so, her main interest is to explore how archival and scientific material that intends clarity and accuracy can be staged as incomplete and ambiguous when extracted from its context.
JHAVERI CONTEMPORARY
Presenting artist Shezad Dawood

Shezad Dawood's new work titled Integrations looks at Modernist buildings across the Global South and what these structures reveal about the larger geopolitical backdrop that informed them: specifically, the utopian train of South-South collaboration embodied by the non-aligned movement and the Bandung (Asian-African) conference of 1955, the Cold War, and the petrodollar boom of the 1970s. The booth includes paintings on jute that mimic the rice sacks that have become an icon of international trade in the Global South, each an abstract portrait of a particular project for the built environment. In addition, a series of small ceramics translate these buildings into more anthropomorphic and domestic propositions.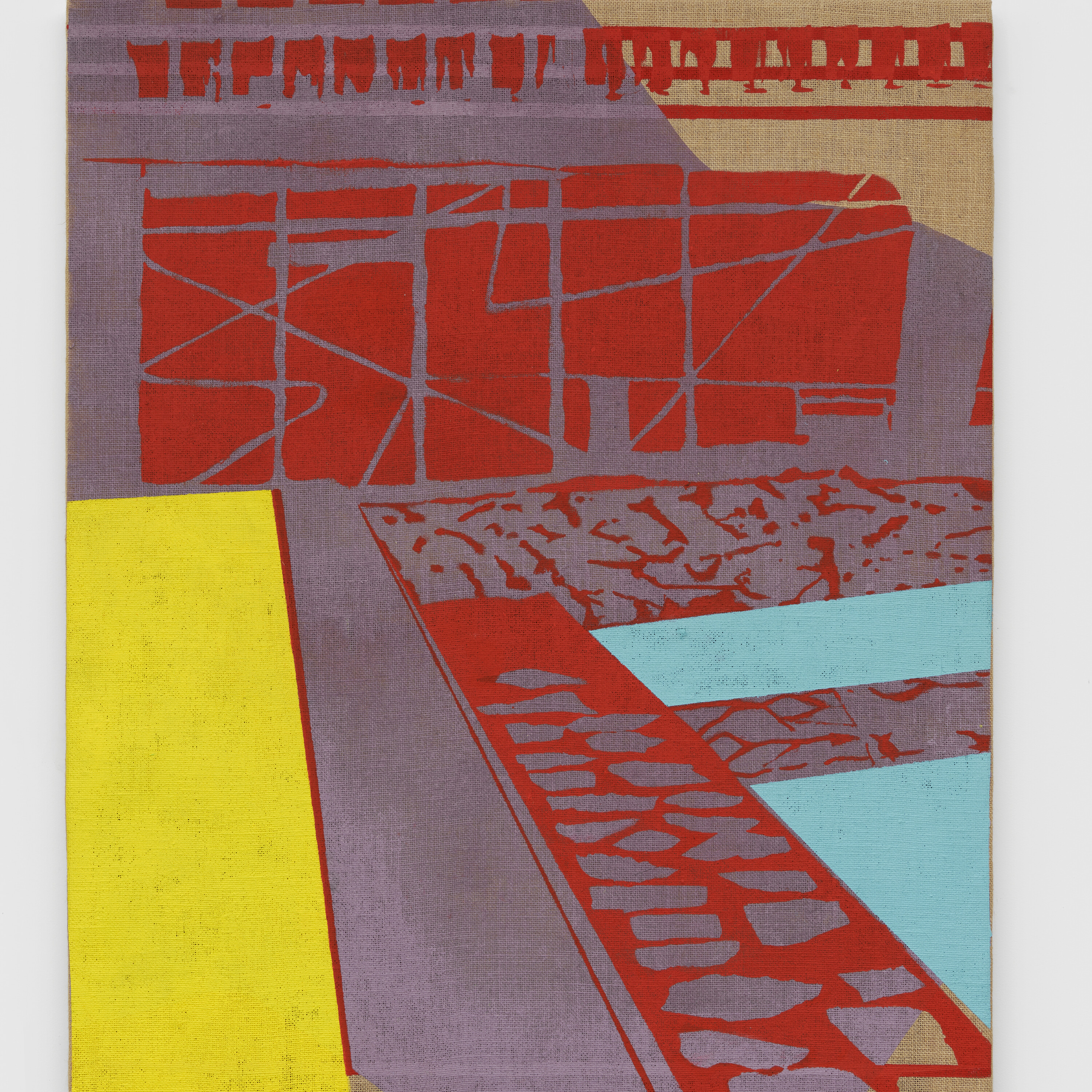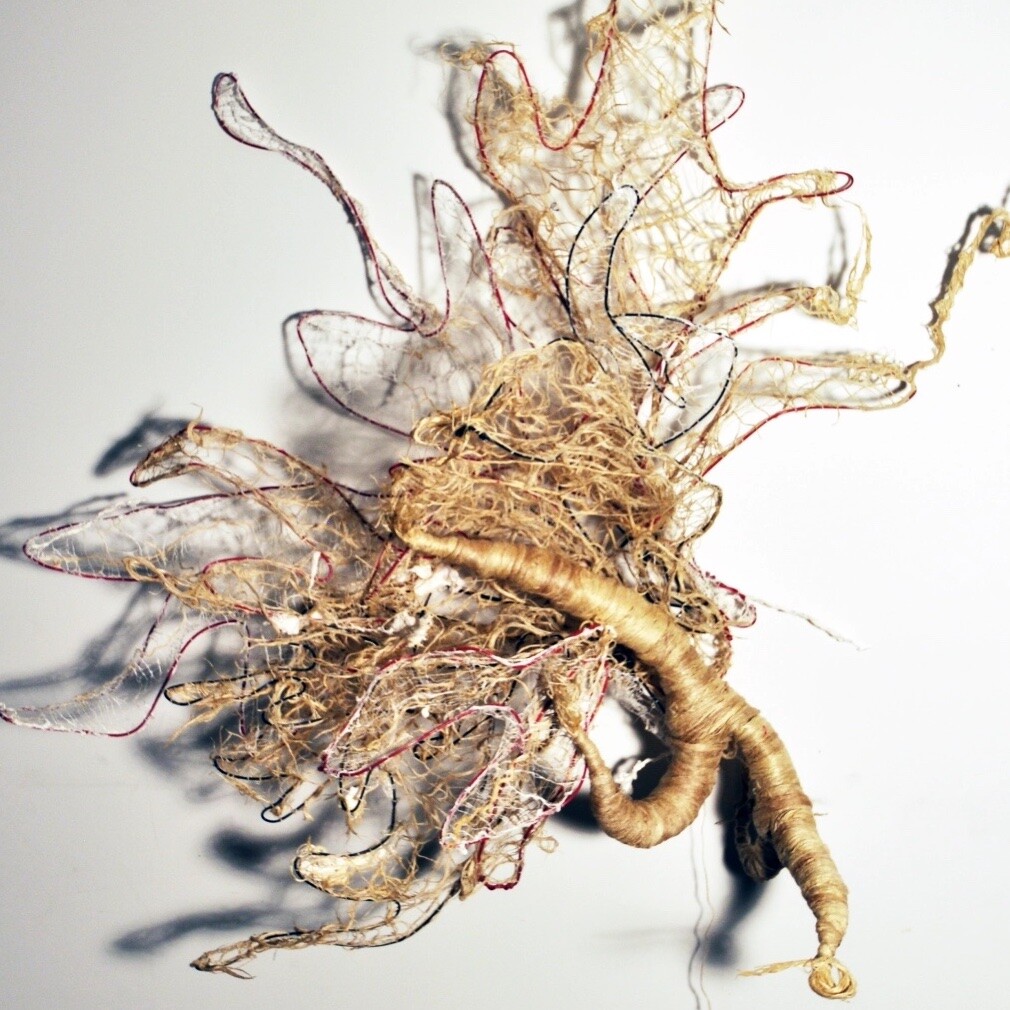 KÓ
Presenting artists Ozioma Onuzulike and Nnenna Okore

Ozioma Onuzulike explores the aesthetic, symbolic, and metaphorical nature of clay-working processes—pounding, crushing, hammering, wedging, grinding, cutting, pinching, punching, perforating, burning, and firing. His recent work is inspired by yam tubers, palm kernel shells, and honeycombs that he mass-produces in terracotta and weaves together in often laborious processes. He configures a multiplicity of the individual units in ways that call attention to burning socio-political and environmental issues, such as reckless politics, bad governance, imperialism, terrorism, and climate change.
Nnenna Okore creates sculptures and installations that combine natural and discarded materials to create abstract, richly textured forms. Working with the processes of weaving, sewing, twisting, and dying, her work is often inspired by the visual characteristics of Eastern Nigeria. Okore focuses on concepts of recycling, transformation, and regeneration of forms based on observations from ecological and manmade environments. These biomorphic formations often examine her dual Nigerian and American identity.
M+B
Presenting artist Laís Amaral

Laís Amaral's research on the effects of environmental collapse on contemporary society plays an integral role in her painting practice. For Amaral, the desertification of large portions of Brazil is a powerful metaphor for blanqueamiento, the "whitening" of its population, a project that has continued to affect the country's social structures and its political, economic, and cultural spheres. The act of painting is a "leak"—a response to this desertification, and a desire to "wet the ways of existing." Finding pleasure in disobeying and contradicting the expectations of abstraction, her paintings create a sensitive language that deviates from a fixed linearity.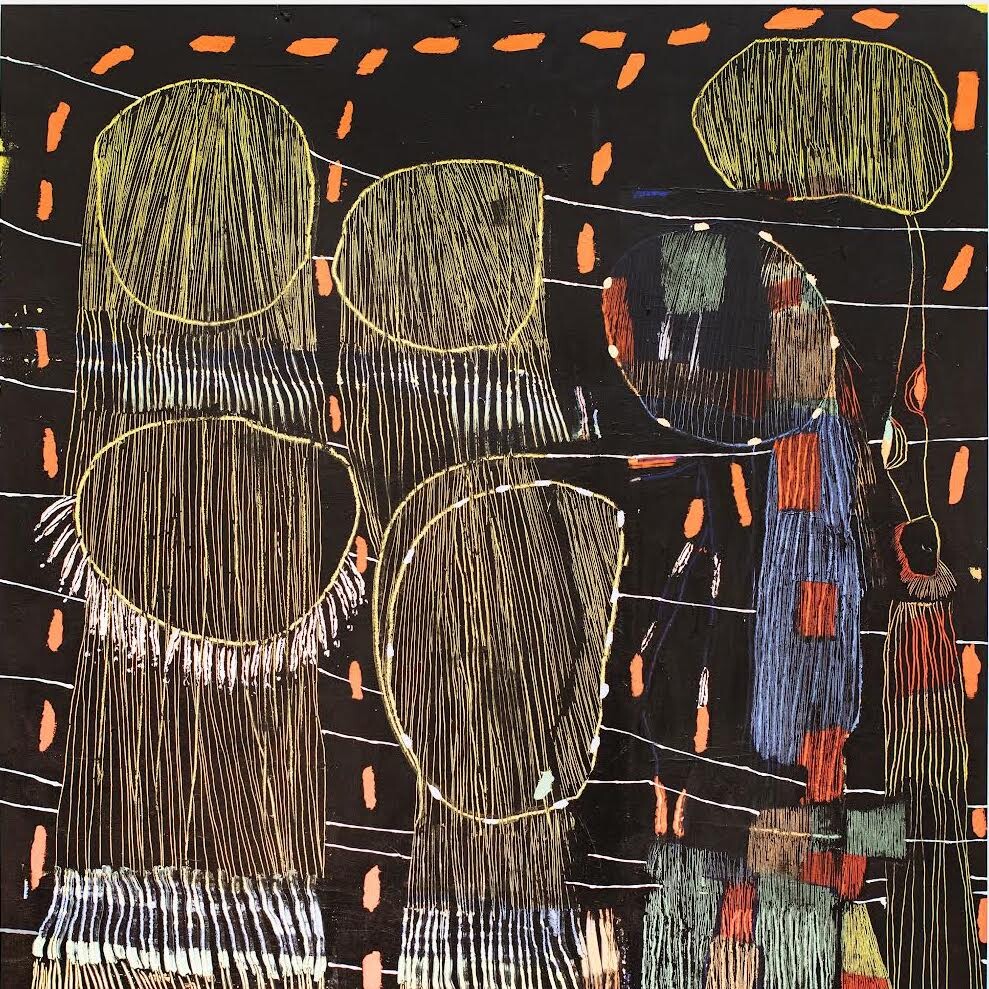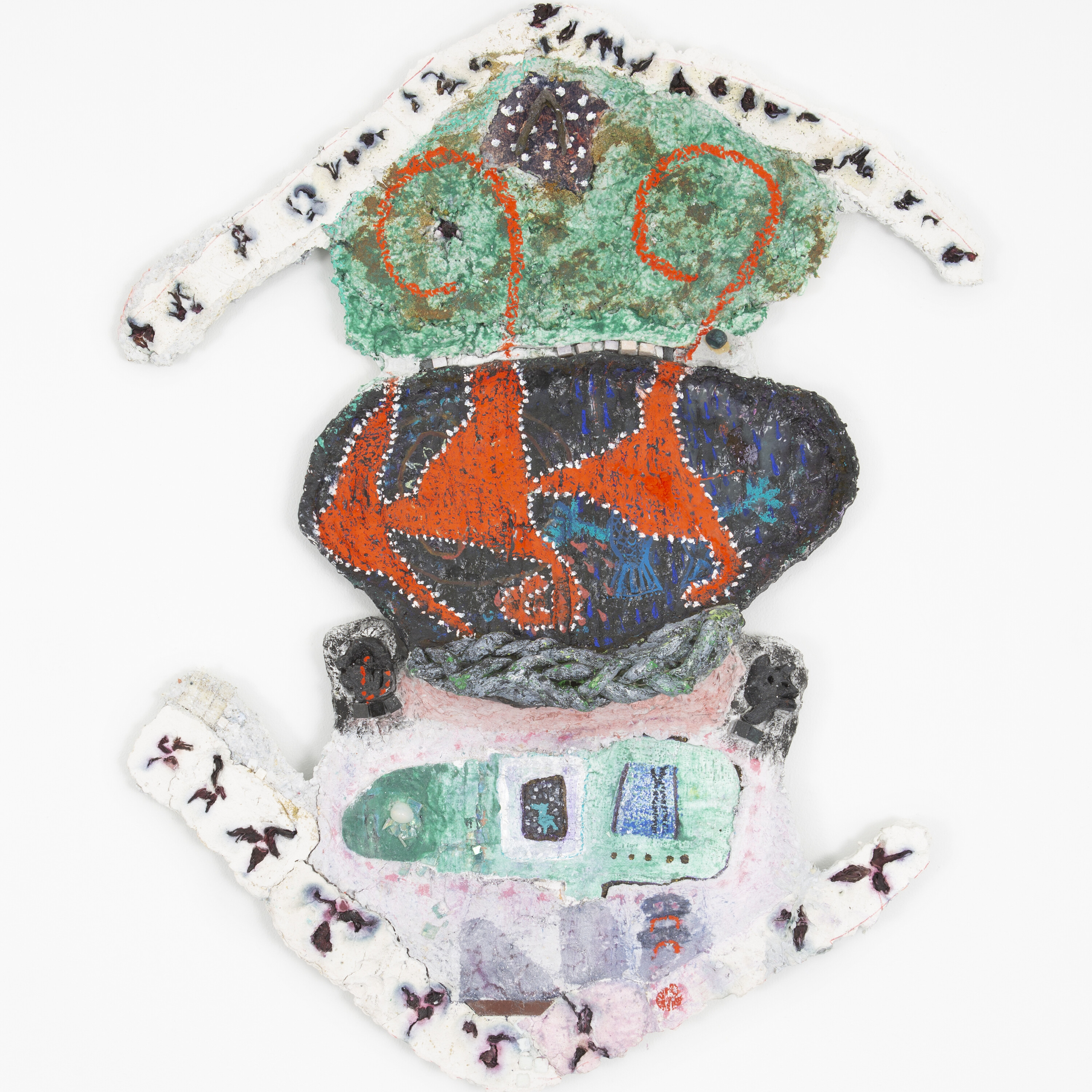 MRS.
Presenting artist Nickola Pottinger

Nickola Pottinger's wall reliefs combine elements of drawing, collage, and sculpture. She makes her own paper pulp by upcycling cardboard and paper archives from her family home. These sculptural works often incorporate torn parts of earlier artworks, broken ceramics, and organic materials, before drawing graphic compositions in pigment and oil pastel. Her intensely gestural works reflect Pottinger's background as a dancer, building the surface as an extension of her body and hiding as much content as is revealed in the process. Inscrutable and mysterious Pottinger's reliefs transcend time, resembling fragments found in the present, the past, or the future.
PROXYCO GALLERY
Presenting artists Lucía Vidales and Naomi Rincón Gallardo

Naomi Rincón Gallardo and Lucía Vidales's work engage initiatives related to the creation of counter-worlds centering on themes of history, Mesoamerican cosmologies, and feminism. In their respective mediums, Rincón Gallardo uses video and Vidales uses painting to create fictional worlds where myth, history, and fabricated characters bring to the forefront neocolonial settings, social anxiety, and intersectional feminism. Colors, textures, and disfigurement make up their aesthetics, where the human body is often at odds with itself or finds itself transforming into something else than human, often finding traditional definitions of race, gender, and progress confusing and unsatisfying.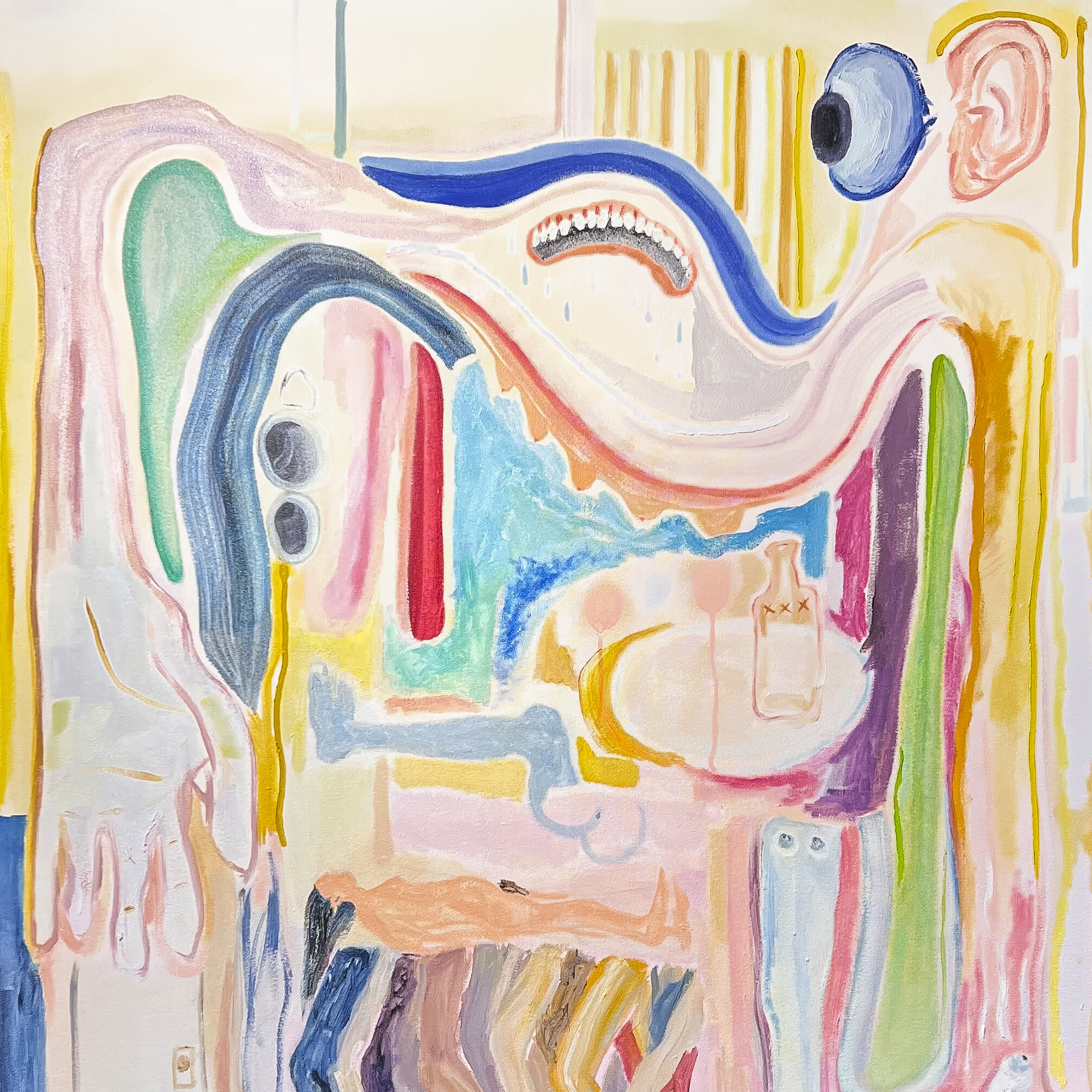 ROLF ART
Presenting artists José Alejandro Restrepo and María Teresa Hincapié

The booth presents the project Intempestivas (1992–1994), a video action conceived by José Alejandro Restrepo to be performed by María Teresa Hincapié with music by Santiago Zuluaga. Intempestivas is one of the earliest expressions of durational, experimental video performance in Colombia, guided by concepts of non-representation in addition to the notion of expanded time as a complete presence.

The work is composed of several video installations by Restrepo that reproduce images that reference aspects of violence in Colombia, while Hincapié, in real time, improvises on stage with slow movements and gestures between the monitors. Through six acts the artwork depicts images of popular culture, folklore, religion, and Christian iconography, not with the intention of denouncing or interpreting the subject sociologically or anthropologically, nor aestheticizing violence, but to reflect on the realities that we inhabit. 
RUIZ-HEALY ART
Presenting artist Chuck Ramirez

The booth consists of a recreation of Chuck Ramirez's exhibition Long-Term Survivor, originally exhibited at Artpace in San Antonio, Texas, in 1999. Taking the HIV/AIDS crisis as its main content and context, the works range from abstractions of erotic toys to pill boxes and leather chaps, repurposing the visual language of advertising into one of activism, compassion, and desire. As a gay, Catholic, Mexican American, and HIV-positive man, Ramirez was at the forefront of activism within the HIV/AIDS Latino community of South Texas. Thanks to antiretroviral "cocktail" therapies, there are many long-term survivors (LTS) living with HIV/AIDS. Survival, however, requires access to medical care and resources to pay for expensive lifesaving treatments, not to mention forging through the stigma and discrimination that many survivors face.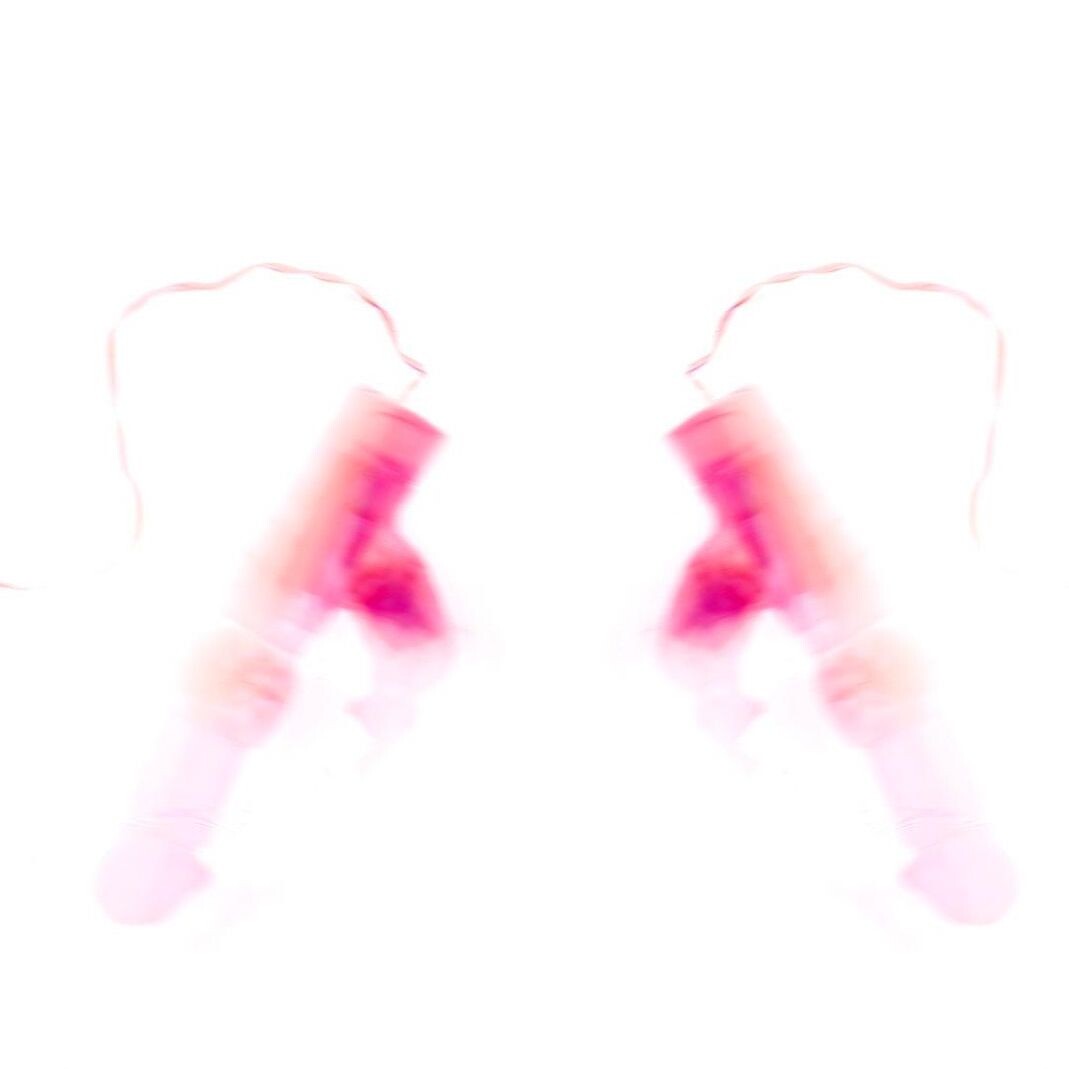 EDUARDO SECCI and MARC STRAUS
Presenting artist José Carlos Martinat

José Carlos Martinat's practice is at the interface between real and virtual worlds, inspired by architecture, the urban milieu, and human and cyberspace memories. His multimedia installations and sculptural assemblages incorporate a diversity of materials and strategies to alter preconceptions about where things belong, bringing the street to the gallery, as an archeologist of sorts. In his work, he extracts surface elements from the streets of Peru using a special method of peeling off painted pintas políticas (political murals), which when hung in a gallery, museum, or private space take on a new life—at once maintaining their original emotional tension and taking on an artistic beauty. 
TERN GALLERY
Presenting artists Leasho Johnson and Tessa Whitehead
TERN will be exhibiting work by Jamaican artist, Leasho Johnson and Bahamian artist, Tessa Whitehead. Both painters with Jamaican roots, Johnson and Whitehead's oeuvres illustrate how their socialization and interpersonal relationships inform their navigation of their respective landscapes. 
Leasho Johnson (b. Montego Bay) explores concepts around forming an identity within the postcolonial condition within Jamaican Dancehall street culture. Working at the conjunction of painting and drawing, Johnson makes characters that live on the edge of perception, visible and invisible at the same time. His work lives to disrupt historical, political, and biological expectations of the Black queer body. Referencing the folklore of Anansi, a trickster and shapeshifter who is the god of knowledge, Johnson's elusive and enigmatic paintings creates space for black queer intimacy with the landscape as the site for this engagement.
Tessa Whitehead (b.Nassau, New Providence)roots her work in ancestral landscapes and the interpersonal relationships formed and sustained within them. Often set in the backdrop of the lush and foreboding Bahamian bush, Whitehead's paintings illustrate the often opaque "knowings" of traversing Caribbean landscapes. The "knowings" are rooted in intuition/magic and Whitehead's engagement with femininity. At times her work unearths archetypes of the wild women; a pointed deconstruction of an idyllic tropical façade. Although known for her large-scale figurative paintings, her practice incorporates a variety of mediums, including, drawing, performance, analogue photography, film, and sculpture. In conversation, Johnson and Whitehead's work creates space for opacity and the reverencing of nuanced Caribbean identity.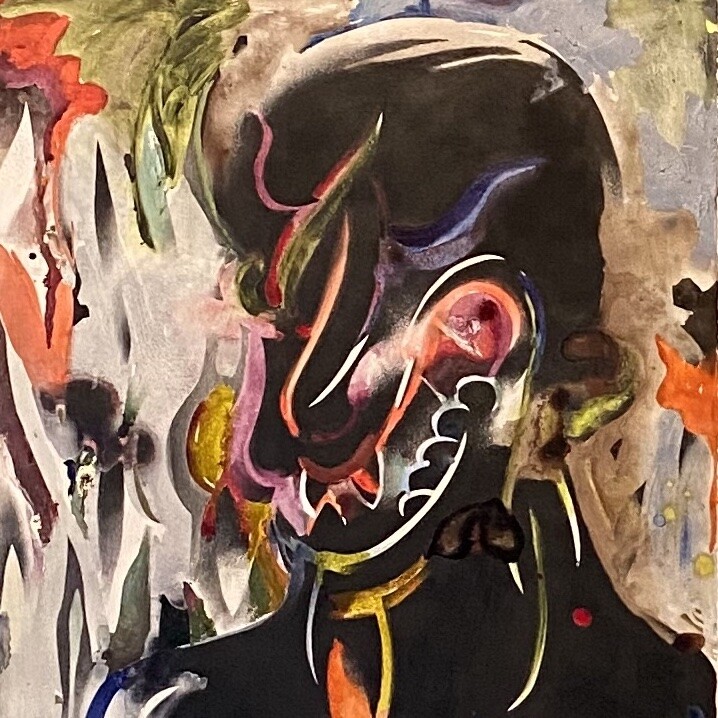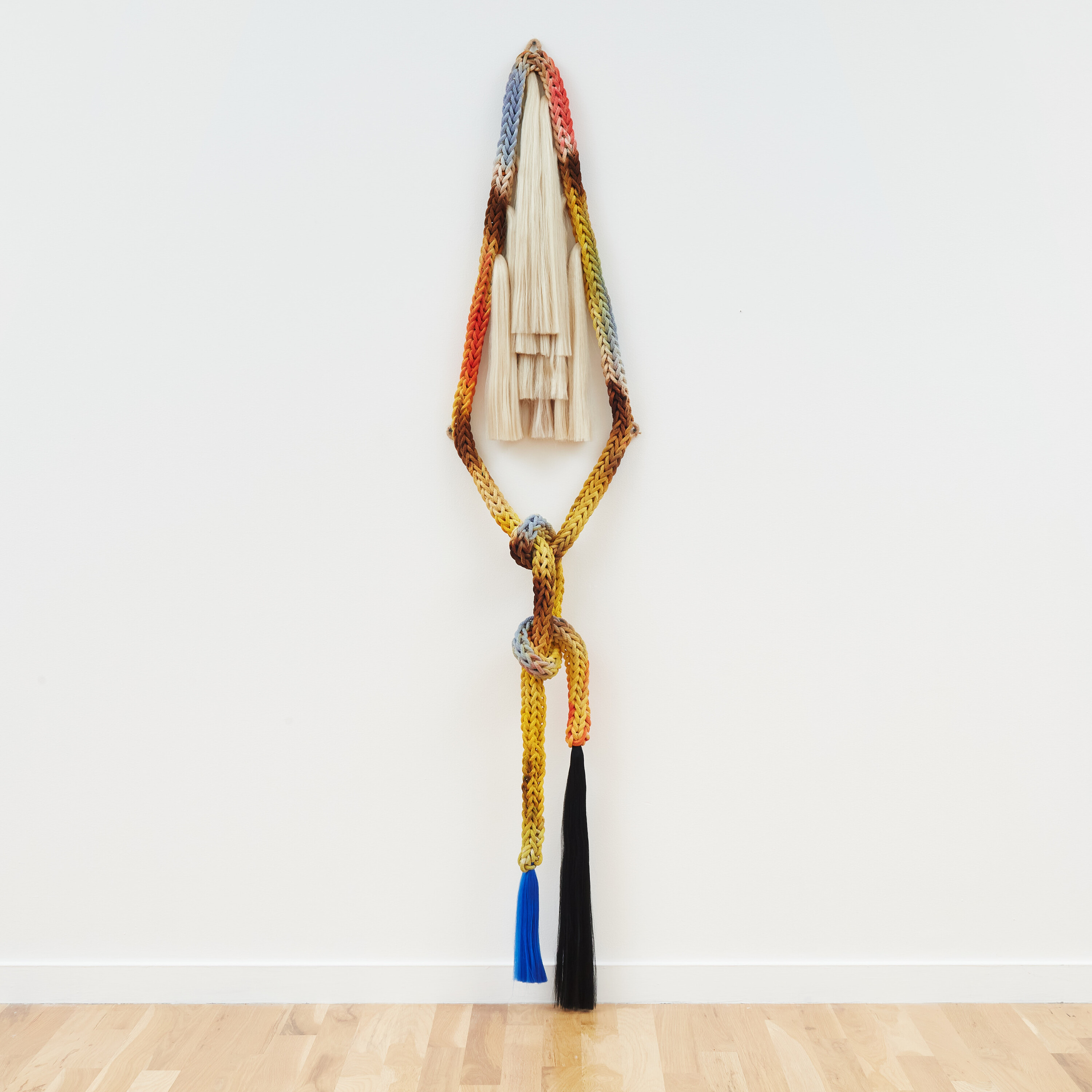 VOLUME GALLERY
Presenting artist Tanya Aguiñiga

Tanya Aguiñiga's weavings and other objects are craftivist gestures, using both traditional and experimental techniques to uplift these essential practices which are passed down generationally. The booth features a grouping of hanging sculptural weavings from her "Extraño" series. Braided textiles, the "Extraño" pieces are a combination of raw cotton, flax, synthetic hair, and ice-dyed technicolor weavings. The series is titled after the two meanings of the Spanish word extraño: the experience of missing and the adjective strange. The "Extraño" objects are a reaction to the grief, gratitude, rage, exhaustion, and worry the artist has experienced in response to the constant threats the BIPOC community faces and the diverse effects and losses of the pandemic.
WORKPLACE
Presenting artists Olivia Jia and Miko Veldkamp

Olivia Jia is interested in the systems that we use to organize knowledge. For example, in her bird book series, she looks at the cataloguing of rare and endangered species. Although hyperreal, Jia's still lifes are never a literal reproduction of existing objects and images, but instead compositions of disparate elements that the artist puts together to allude to new metaphorical, narrative, and subtextual relationships.
Miko Veldkamp was born in Suriname and grew up in the Netherlands before relocating to the US. His work is a response to living across dispersed geographies and the ways in which his identity has shifted in the process of navigating degrees of otherness. At first glance, his compositions are vibrant and playful, but incorporated elements such as coca and tobacco leaves represent both the beauty and the cultivated danger hidden within the landscape.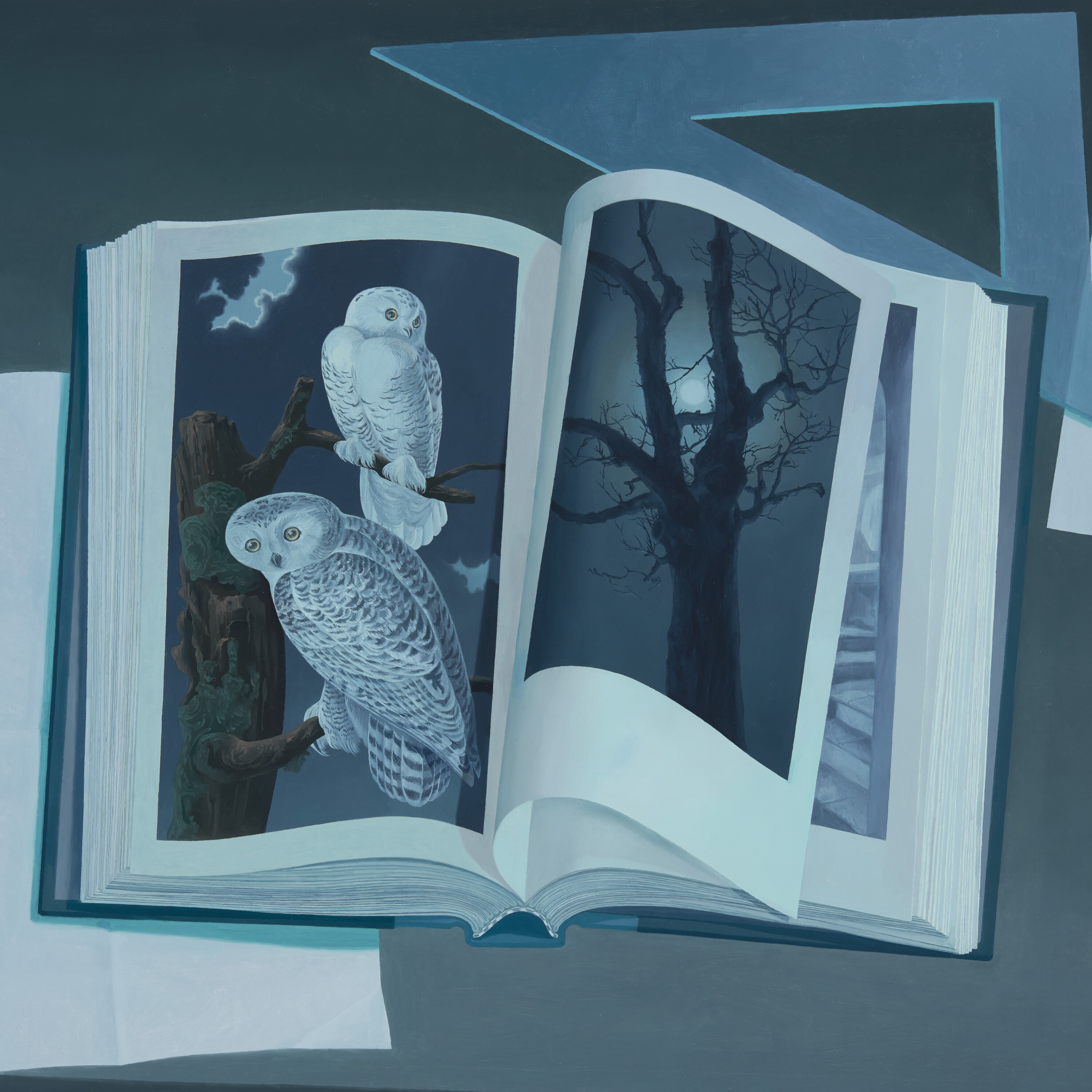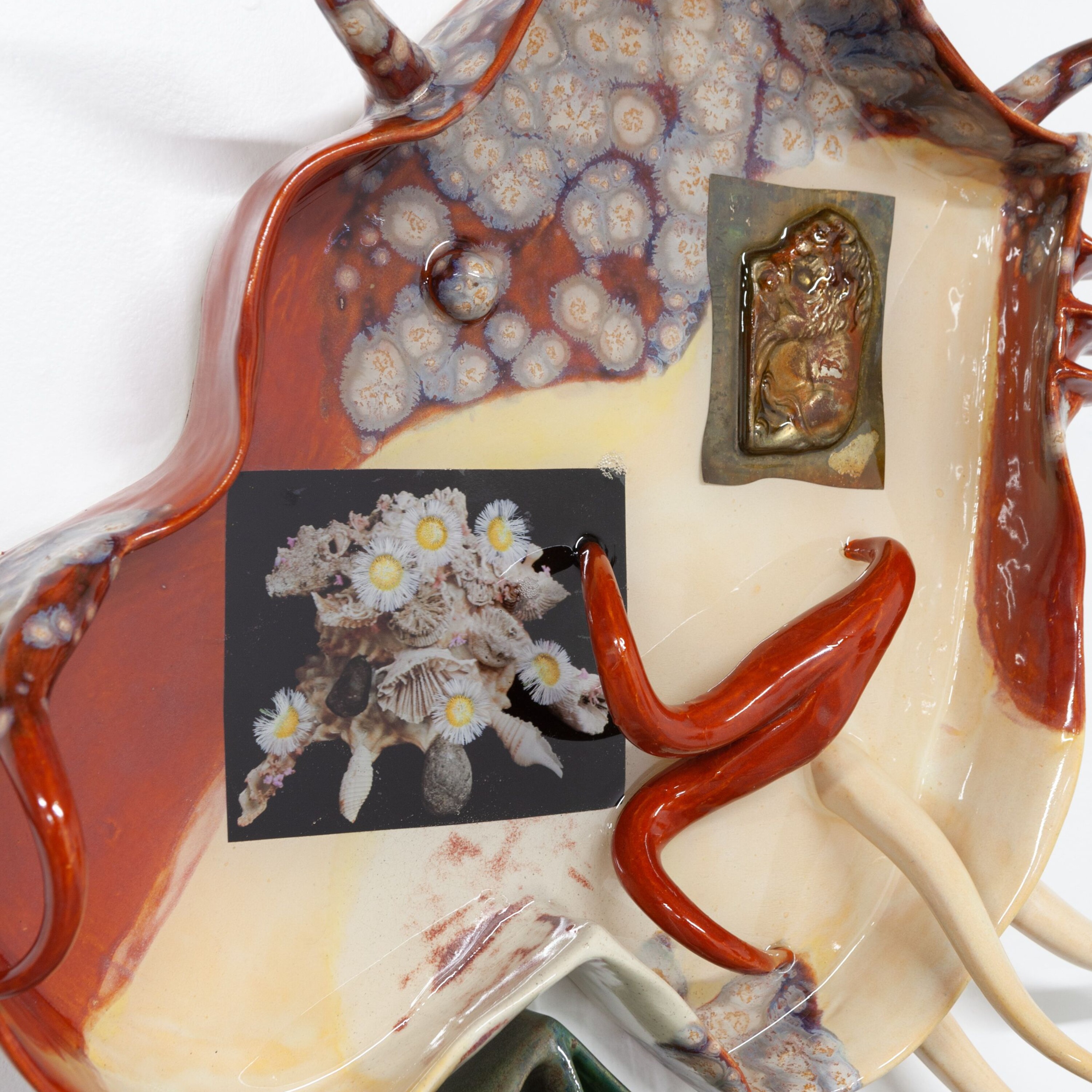 DOCUMENT
Presenting artists Julien Creuzet and Erin Jane Nelson

Julien Creuzet mixes sculpture, sound, installation, and textual intervention to address the colonial implications of France in the Caribbean (Martinique and Guadeloupe) in relation to his own diasporic experience. Working primarily in sculpture and installation, Erin Jane Nelson's work emerges from a murky engagement with shifting Southern coastal ecologies. While each artists' work is derived from different coastal areas, they both speak to the troubled intersections between the history of these regions and the events of modernity. 
Creuzet's most recent body of work includes large-scale wall sculptures made of metal, fabric, and plastic. Informed by the troubled histories of Martinique, large carbon steel floor pieces designed to be walked on are cut into forms, ranging from local botany to sailing diagrams of slave ship routes. Nelson's recent ceramic multi-panel works are organic forms covered with a watery resin skin-like shiny forms frozen in place, evoking the catastrophic flux brought on by climate change and natural botanical symbiosis.
SEAN KELLY
Presenting artist Hugo McCloud

Hugo McCloud's recent paintings engage with geopolitical issues of migration, the value of labor, and concern for the growing disparity in social and racial economics. Produced using only single-use plastic, the social content of McCloud's plastic works is made apparent not only by the abject nature of the material, but also by the fragmented texts printed on them, which allude to the worlds of trade and commerce. McCloud often speaks of "building" his works rather than painting them, a word choice that intentionally aligns his practice more with manual labor than with the usual terminology applied to fine art.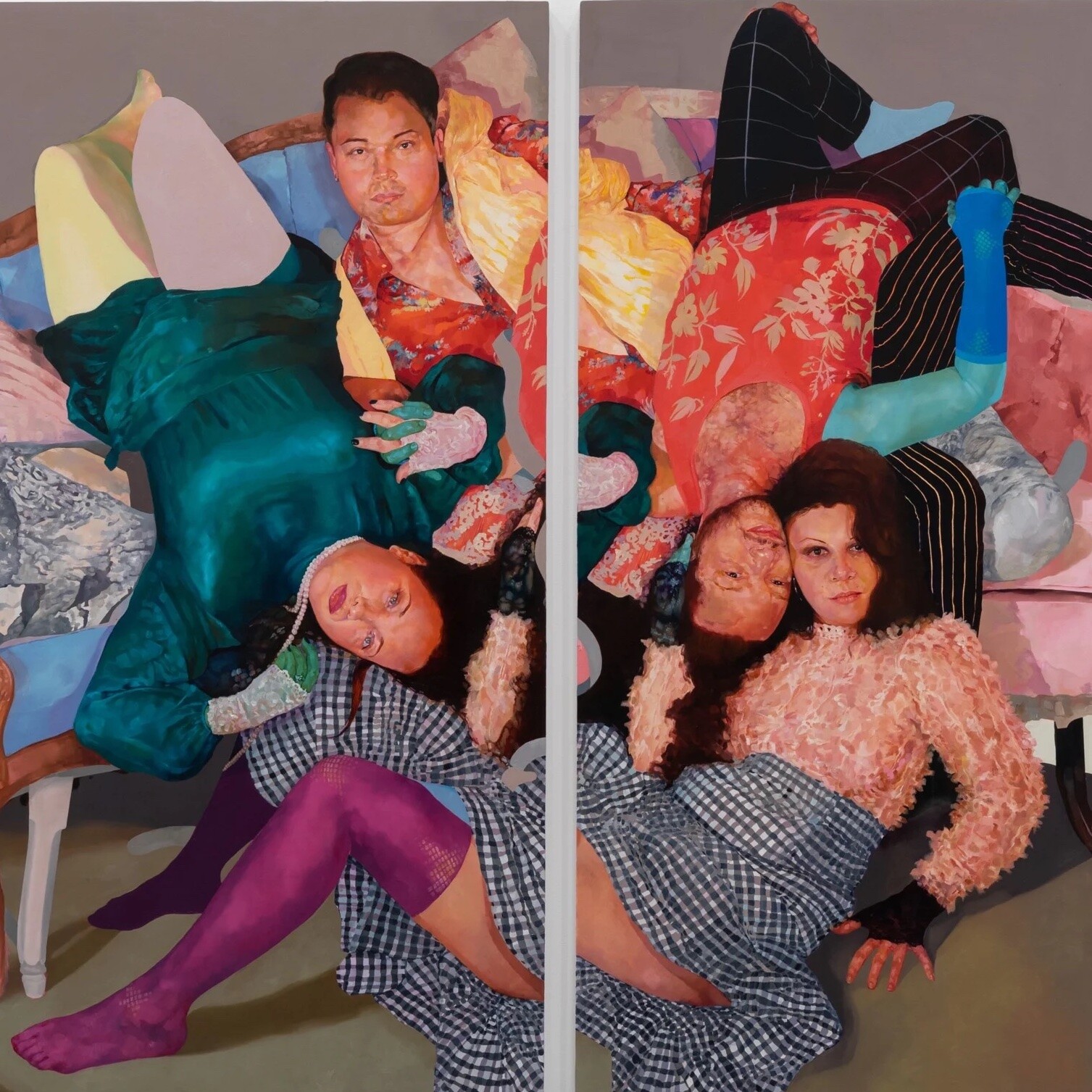 MONIQUE MELOCHE GALLERY
Presenting artist David Antonio Cruz

David Antonio Cruz explores the intersectionality of queerness and race through painting, sculpture, and performance. Focusing on queer, trans, and genderfluid communities of color, Cruz explores the notion of "chosen family"—the nonbiological bonds between queer people based on mutual support and love. The booth presents three-large scale paintings that depict the likeness of the artist's own community—a result of intimately staged photoshoots where friends gathered with their chosen families—yet they capture much more than the physical representation of the figures; they venerate the overall structure of queer relationships, rendered through intimate moments of touch, strength, support, and celebration.
PROYECTOS ULTRAVIOLETA
Presenting artist Johanna Unzueta

Johanna Unzueta's drawings embrace formal abstraction to engage with ideas of labor, colonial industrialization, and indigenous craft practices. The large paper drawings are often tinted with indigo, fustic, or other natural dyes. Their forms are drawn from the natural world—taking inspiration from symmetrical geometries and the "golden ratio" found in nature, the process of spinning threads or looping forms made by children as they play. Using embroidery hoops from her extensive collection, the results are delicate oval, circular, and geometric forms activated by light and conveying the sensibility of textiles. Presented as free-standing works allows viewers to experience them as three-dimensional objects, revealing both sides of the paper whilst simultaneously paying homage to Italo-Brazilian architect Lina Bo Bardi.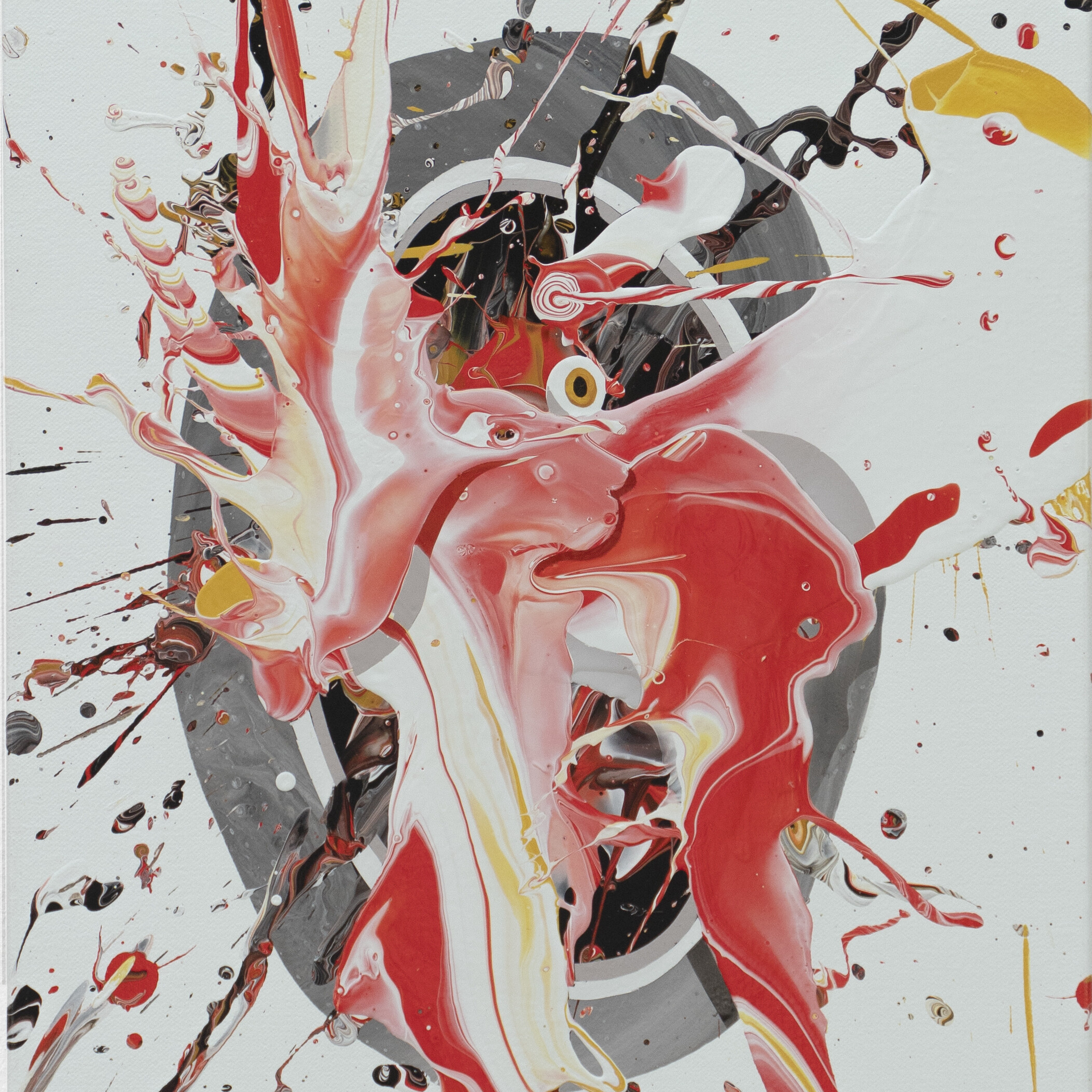 ROSENFELD
Presenting artists José Castiella and Keita Miyazaki

Keita Miyazaki combines car engine parts with origami-inspired paper or felt creations to create his sculptural works. Initially intending the work to be a critique of contemporary Japanese society, he quickly discovered it had universal relevance. Miyazaki witnessed the Japanese tsunami in 2011, which swept away a great part of the country's industrial society. Having trained in metal welding, he resolved to take one functional element of that apparently obsolete world and give it fresh life by integrating it into his sculptures. 
José Castiella's strange, vivid, and surreal paintings explore the possibility of new life forms after the collapse of our contemporary world. The characters in the artist's paintings arise by chance as the artist pours paint onto the canvas laid onto the studio floor. Once attached to the wall, characters begin to appear on the canvas. These strange life-forms recall the world of Hieronymus Bosch, but also a world populated by deformed creatures.
CARRIE SECRIST GALLERY
Presenting artist Diana Guerrero-Maciá

Diana Guerrero-Maciá's work reengages the histories of modernism through abstraction, using textiles as a conduit for signaling migrations and sustaining the traditions of Latinx culture. Two separate symbolic patterns based on traditional quilting contextualize her work in the booth: Flying Geese and Drunkard's Path. Flying Geese is a traditional pattern whose meaning is based on a signal to follow the direction of flying geese as they migrate north in the spring. Traditionally, slaves from the South escaped during the spring, when the flying geese could be used as a guide to finding water, food, and resting places. Drunkard's Path is a zigzag quilting pattern that is deceptively designed to go nowhere and represents the stochastic process—or the randomness of the everyday.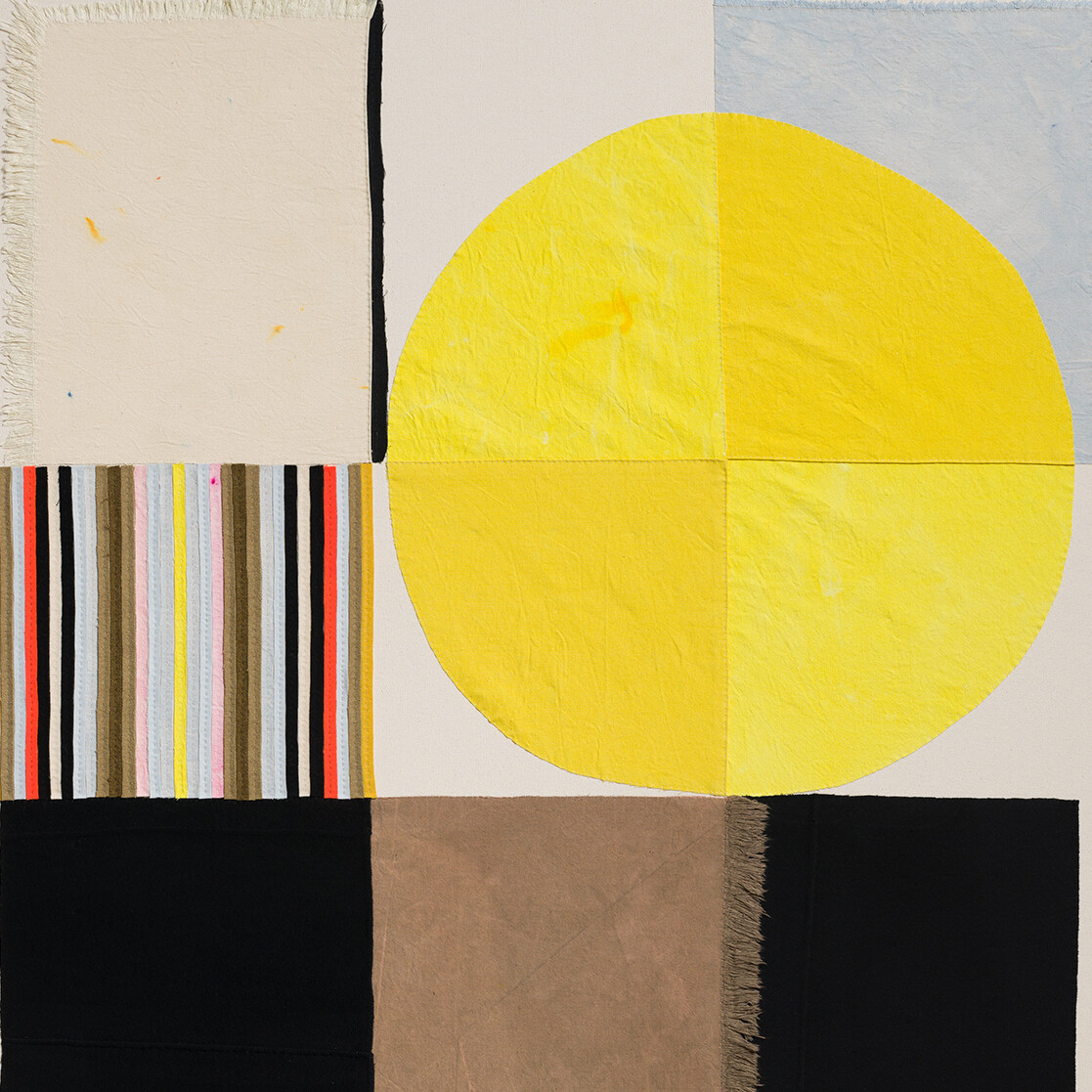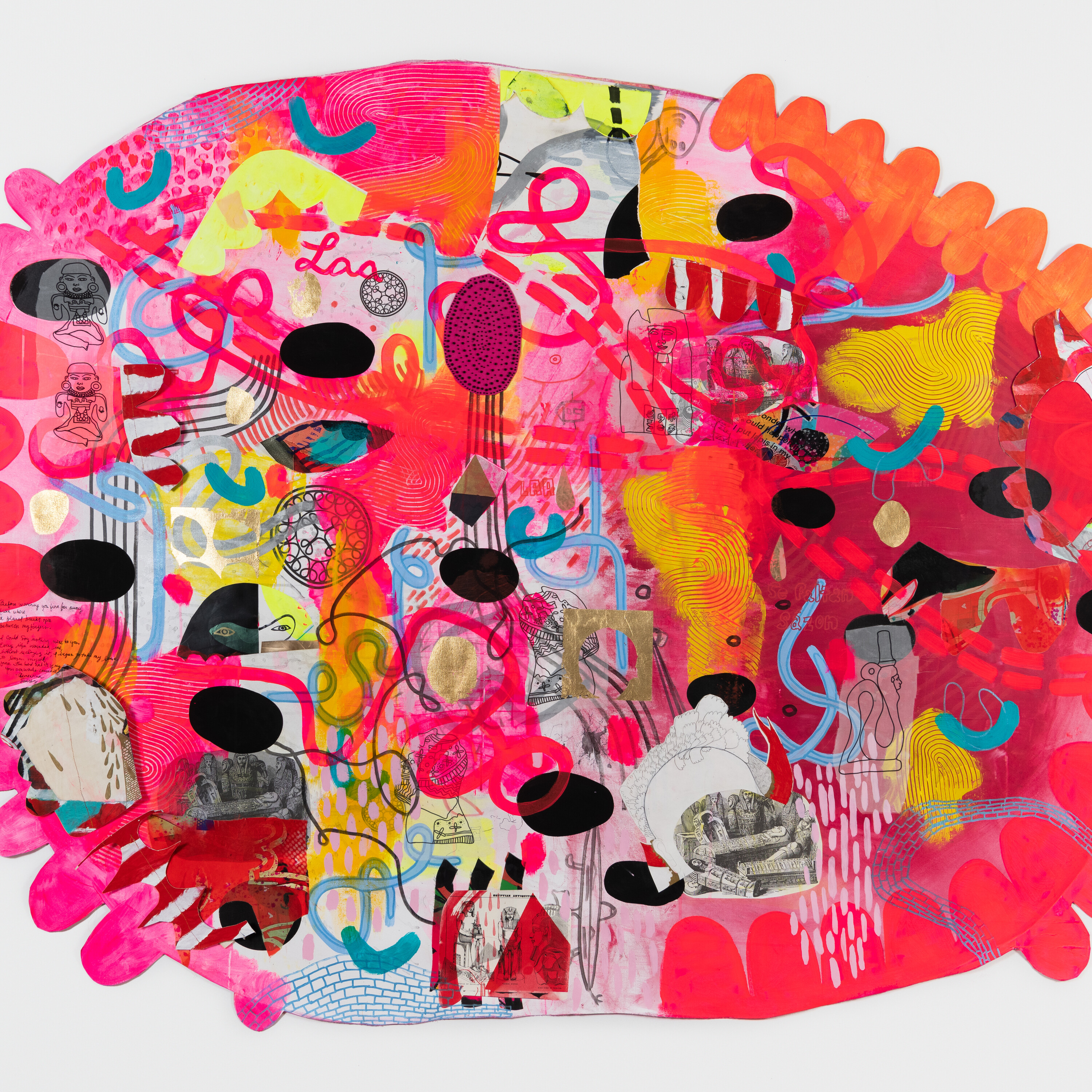 SOCO GALLERY
Presenting artist Jackie Milad

Jackie Milad's work explores the layering of transcultural history in Central American and Middle Eastern architecture and iconography through multimedia textile works. Milad links a universal topic of cultural layering and documentation with her own multicultural identity by blending and packing in what appears to be disparate imagery, icons, and language (graffiti, rap lyrics, popular slang, etc.). These layered compositions mimic not only her own mixed Honduran-Egyptian-American upbringing, but also symbolize the way cultures are recorded and monumentalized in remaining fragments over time. By obfuscating the meaning of her textiles, Milad prevents a single reading of the work, embracing its complexity in relation to global history.
CRISTIN TIERNEY GALLERY
Presenting artist Jorge Tacla

Jorge Tacla's recent paintings are devoted to themes of revolution and evolution. Some of the subjects explored in his paintings include the January 6th US Capitol attack; Black Lives Matter and other political protests; the Chilean presidential palace La Moneda, bombed during Pinochet's coup in 1973; and various buildings and monuments that embody the history and aspirations of humanity. Moments of political conflict are a recurring subject in Tacla's work. The artist's interest stems, in part, from his personal history. He came of age in Chile during the rise of the Communist party and youth-led popular protests, and as a teenager, he witnessed firsthand the US-assisted overthrow of Salvador Allende's government, followed by Pinochet's dictatorship.